Barnwood Builders Opens Storefront in WSS
White Sulphur Springs, WV is a city that has overcome its fair share of adversity. It was ravaged by a devastating flood last year; an event that, logically, should have disheartened and depressed its citizens. Instead, the opposite happened. The people of White Sulphur rose to the challenge, climbing out of the woodwork to help each other and rebuild their beloved community. West Virginians are some of the most hardworking, persevering people that I have ever had the pleasure to meet, and Mark Bowe and the cast of Barnwood Builders are true West Virginians. They show their drive and resolve time and again on episodes of their show. They know how to get things done, how to work around problems, and how to do it all in a timely fashion. So, I find the location of their new showroom and store on Main Street in White Sulphur Springs to be very fitting.
I went to the grand opening of the Barnwood Living on May 27, during White Sulphur Springs' annual Dandelion Festival. As I walked down the street, passing familiar landmarks, I wasn't sure what to expect to see when I got to my destination. Full disclosure: I'd never seen an episode of Barnwood Builders at that point. I was going in blind, armed with my camera and a basic idea of what Mark and his crew did for a living. As I rounded the corner past the beloved bakery, B Sweet Confectionery, I was greeted by a sturdy, handmade sign declaring that I was, indeed, in the right place.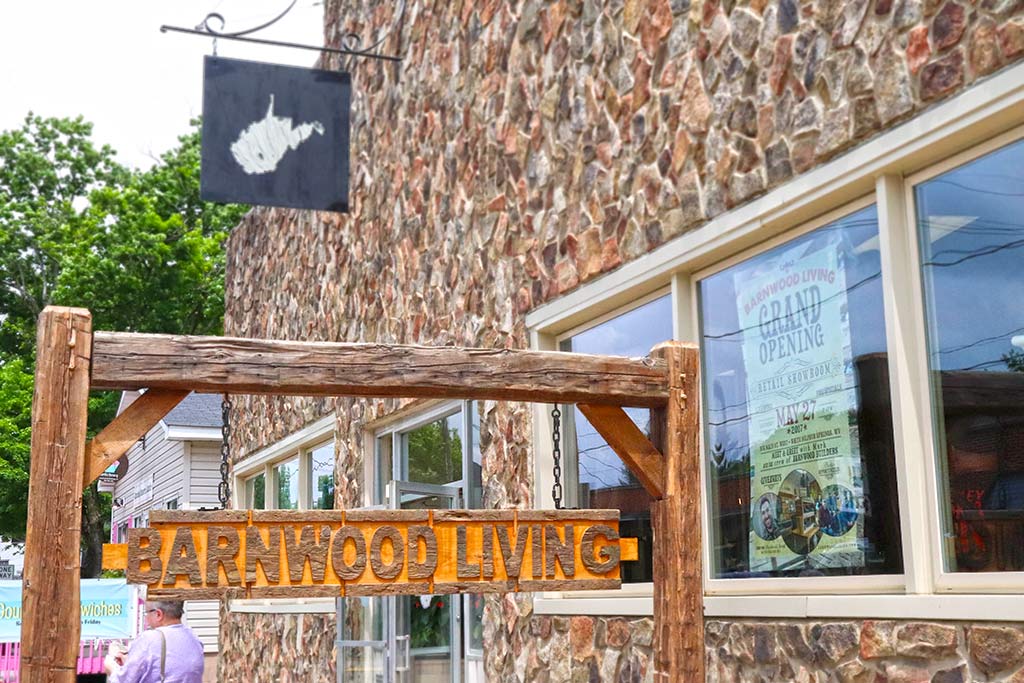 I headed inside and was momentarily overwhelmed by the sea of people milling about. I mean, I knew that these guys and their show were very popular, but I didn't realize just how popular until I saw how many people had come here to see them. The first thing I noticed was local performer, Allan Dale Sizemore, strumming away on his guitar. The music created a lovely, laid-back atmosphere that made it easy to relax and socialize.
There was a guestbook laying on a beautiful handmade table, and I flipped through several pages, amazed by how far some people had driven to be here. South Carolina, Pennsylvania, and Maryland were just some of the states I saw listed.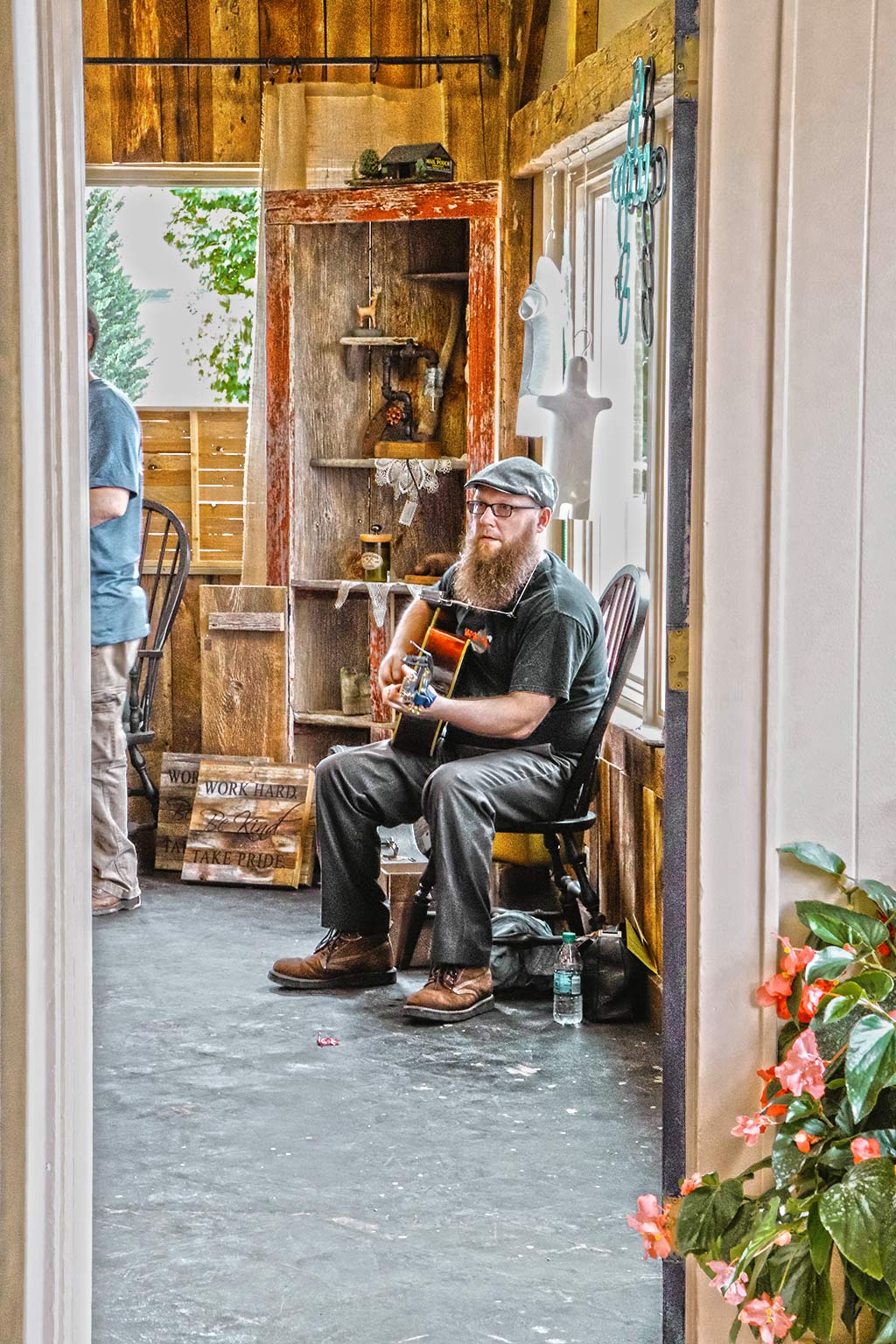 I weaved through the crowd, admiring candles and clothing, watching the fans of the show geek out over things I didn't understand, but I appreciated their enthusiasm nonetheless. Barnwood Living is unique, because as a store, it is showcasing simple merchandise, but the showroom aspect of it also means it is showing off the items the merchandise is displayed on. It's difficult to find a piece of furniture in the room that isn't handmade by one of the guys on the show, and I find beauty in that. Barnwood Living isn't just a plain furniture store, nor is it a simple department store that sells goods and trinkets. The showroom beautifully mashes the two together, creating a space that feels comfortable and homey, yet still functions as a business.
Tables, chairs, décor, and utilitarian items were all for sale, all handmade by the Barnwood Builders crew. There's something for everyone: sanded, stained dark wood dinner tables, rough hand-hewn lamps and nightstands, and wood-finished kitchen utensils, as well as t-shirts, candles, and wall hangings. I was very impressed by the quality of every single product.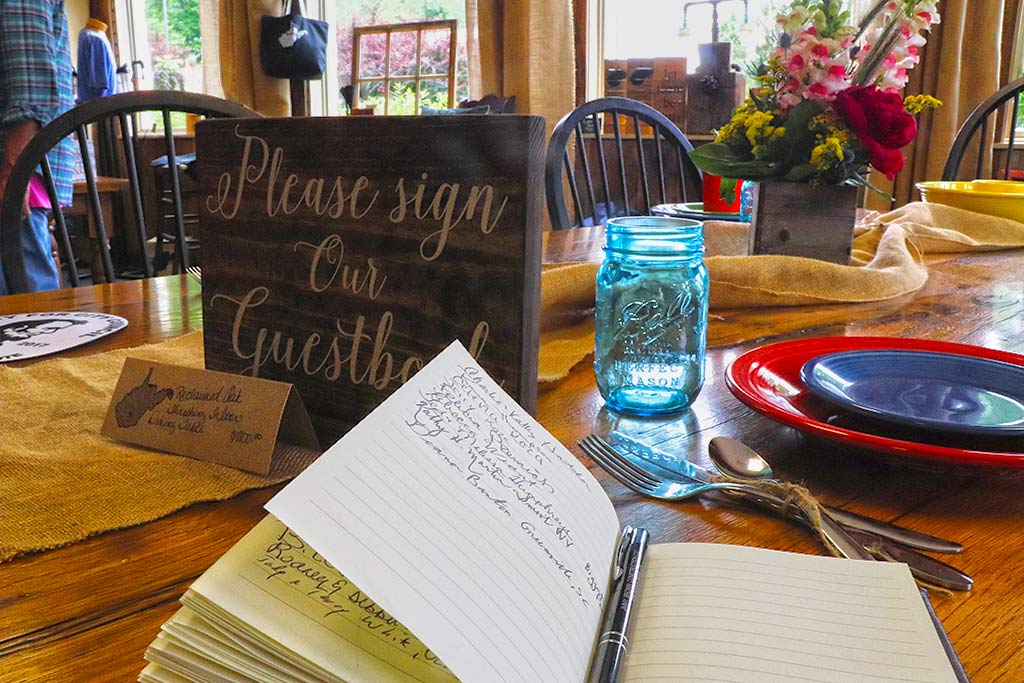 The left wall of the showroom was set up as a meet-and-greet and photo-op area with the cast of Barnwood Builders. At the time I was there, I didn't know who any of them were, but everyone else sure did. The men posed for hundreds of photos and never seemed fatigued or unhappy. I've met celebrities before, and it's rare for them to not ruin the expectations you had for them. These guys are the complete opposite of every even-remotely famous person I've ever met. While I didn't talk to them personally, I observed their interactions with the fans. They smiled and laughed, playing with babies and exuding joy and goodness unlike anything I'd ever seen before. These guys are truly happy with their lives, and they project that happiness onto other people.
There was also a long line of people outside in the back parking lot, happily waiting to get autographs.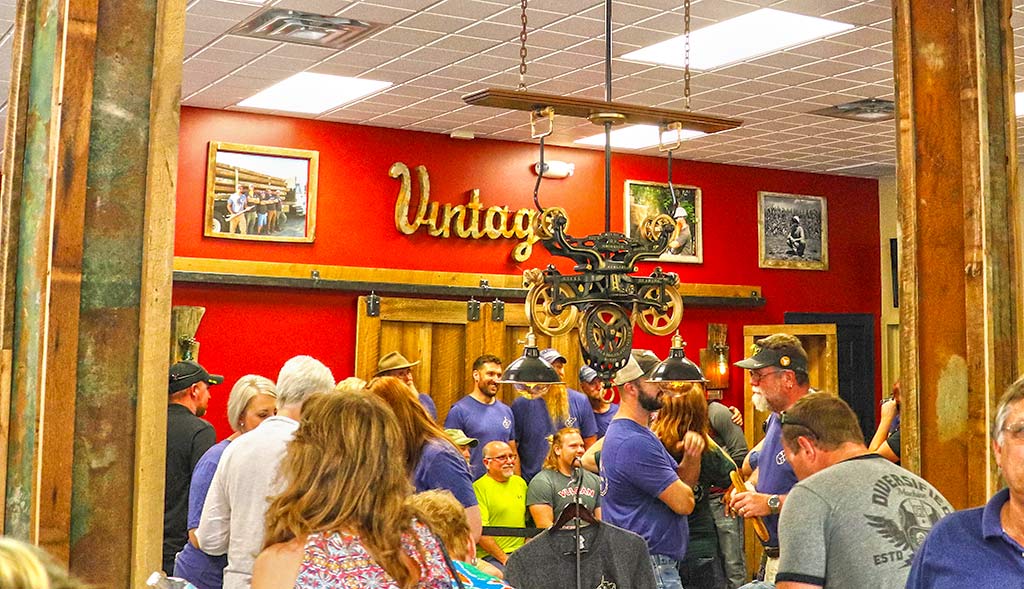 After I visited the store, I knew I had to watch some episodes of the show, so I sat down to watch the first one, and before I knew it I had watched the entire first season! It's easy to see why these people were so happy to meet Mark, Sherman, and the crew. They truly are everyday guys, just like us. They're funny and smart, and their ties to West Virginia make them that much more appealing to us small-town dwellers. I strongly encourage anyone, whether you're a fan of the show or not, to visit Barnwood Living in White Sulphur Springs. They're open Tuesday-Saturday from 10-5, and be sure to grab a cupcake from B Sweet Confectionery while you're there!