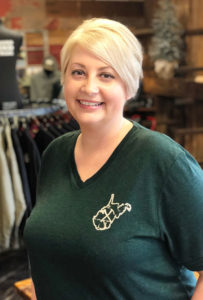 Meet Katherine! You have seen her on the show and you've seen her at the shop! Katherine is our energetic hillbilly wrangler and takes care of everyone on the team. We thought you might like to learn a little more about Katherine and her West Virginia life ~
~ My life is intricate yet very ordinary. I married my adorable husband Ben more than 20 years ago and together we raised a beautiful, intelligent daughter, two cats, and two tiny dogs. Our life is beautiful, simple and full of love.
~ My professional work background is an interesting mix of experiences that lead me to Barnwood Living. I was born and raised in White Sulphur Springs, WV and like many residents here I spent a few years working at The Greenbrier. While at the work at the world-famous resort, I worked with some of the most talented folks in the retail world. They taught me to be creative with merchandise and to always think "outside the box" when displaying items.
~ I also spent several years as an office manager for an independent, award winning professional photographer. That experience was an eye opener for this little country bumpkin. The lesson I learned from that is that art can be expressed through many different mediums.
~ I began working at Barnwood Living, full-time, two years ago and the roller coaster ride has yet to stop!
~ Barnwood Living is about creativity, up-cycling and finding art and beauty in things not on the beaten path.
~ My favorite thing about working for Barnwood Living is the people that I get to work with each and everyday! My co-workers as well as the fans that visit our retail showroom are the best. The fan base for Barnwood Builders is unbelievable! They are kind, passionate folks who honestly bring so much joy to my days.
~ The single most popular item in the shop, hands down, are the crew shirts! Everyone LOVES them!!! A close second would be any and everything that the fellows make for us to sell and display.
~ When I think about some of my favorite things in the retail showroom it is so difficult for me to narrow it down! This space has become such a big part of me personally! By working with our crew, local artisans and many other talented craftsman here in the USA we have created a very interesting and eclectic mix of merchandise that we feel really shows off some of the coolest artists in the biz. Come and visit me!