Eddie Booze, West Virginia Artisan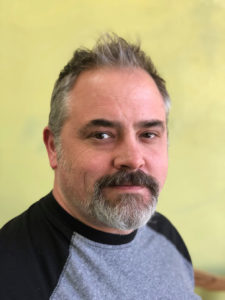 Viewers of Barnwood Builders might be familiar with some of the creations of Eddie Booze, a local West Virginia artisan. His liquor tap was created out of old barnwood and reclaimed metal in Season three and his artwork adorns a number of shirts the guys sport.
If you've stopped by the store in White Sulphur Springs, you're bound to have seen his steampunk-inspired lamps, built of reclaimed woods and scavenged parts.
"I used to talk walks along the old railroad tracks here in Greenbrier County and we would find all of these old insulators that the company just ditched when switching them out. They used to use these along the telegraph lines that paralleled the train tracks. I thought it would be cool to pair these with some old weathered wood and metal, then add some Edison bulbs," says Booze.
Today, he and his significant other, Cathy, spend their off-days hitting flea markets, estate sales, and auctions. Just last week he became the "accidental" owner of a vintage Coke machine after placing a bid he was sure would be topped. "Now I gotta find something to do with it," he laughs.
Eddie's lamps continue to be a great seller at the Barnwood Living Showroom, says Katherine Shelton, store manager. "Eddie and Cathy create some of the most unusual and amazing lamps that you will ever encounter. Each piece is one of kind and oh-so-perfect. When you find yourself ready to think outside the box and add something truly fantastic to your décor, this is the item you want."